Back lit, front lit, wall mounted or free standing, Garage Graphics can configure
a display to fulfill your automotive vision—in sizes up to 10′ x 40′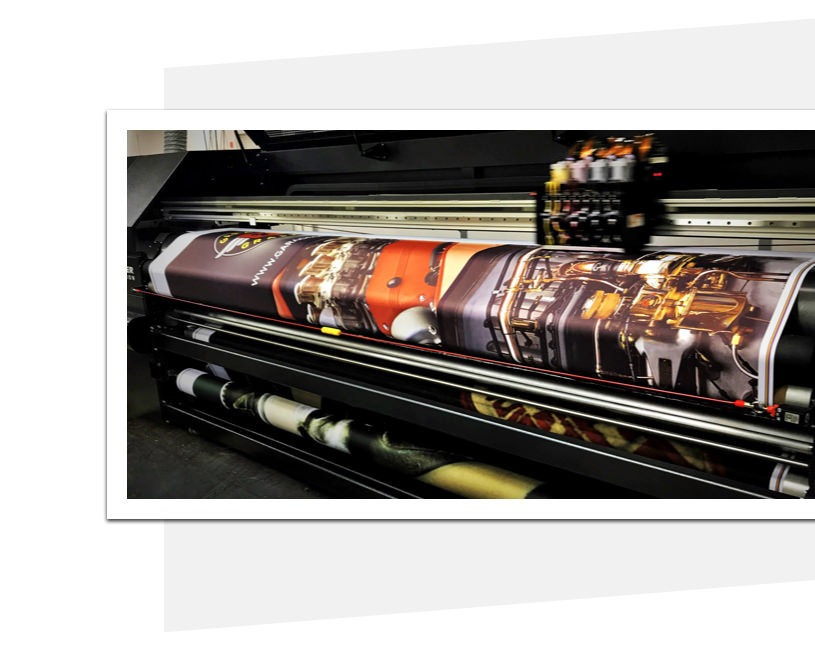 Garage Graphics are printed by dye-sublimation – a process that uses heat to transfer and fuse dye into specially prepared materials – via two Italian 126-inch-wide fabric printers capable of producing an exceptionally wide color gamut and excellent greyscale.
Our dye-sublimation printing uses environmentally friendly, water-based inks that pass all OEKO-EX® Standard 100 certifications. Printing at 1,200 DPI, we are able to produce graphics of extraordinary detail using variable drop printing heads for superior image quality and clarity.
Fabric substrates are fire resistant and machine washable (on delicate cycle using a mild cold-water detergent). They may be tumble dried on a low setting, making them ideal for high-traffic, garage, or workshop environments where a variety of airborne contaminants may be present.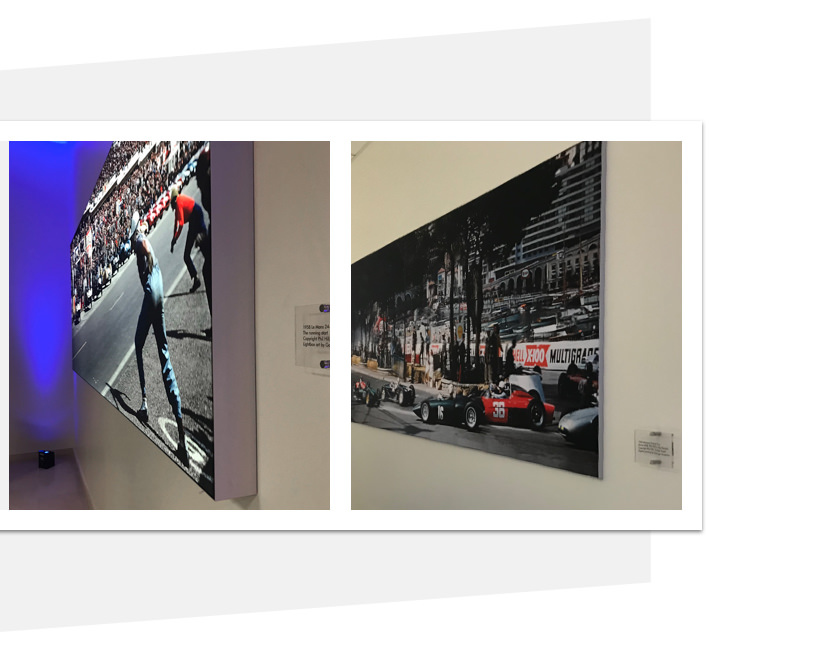 Garage Graphics uses REXframe® – an innovative, silicone edge graphic signage system – to create back lit and front lit display graphics in sizes up to 10' x 40'. The aluminum extrusions are lightweight, sturdy and can be assembled with hand tools using a simple connector system.
The REXframe® system allows us to custom design a graphic to fit any space and can be wall mounted, free standing, suspended, retro-fitted or used to build an entire structure. Graphics can be single sided, double sided or cubed; teamed with low voltage, UL-approved LED lighting; back lit or front lit.
The simplicity and versatility of REXframe® allows it to be assembled for a one-off event, reused time and time again, or permanently fixed in place in a variety of environments including car collections, museums, automobile displays, garages, or workshops. Garage Graphics' displays are ADA-complaint, making them ideal for use in public spaces.
Printed artwork is fitted with a press-fit silicone gasket border that ensures an easy to assemble, taut finish and permits the graphics to be readily removed from the frames for cleaning or for replacement with another graphic.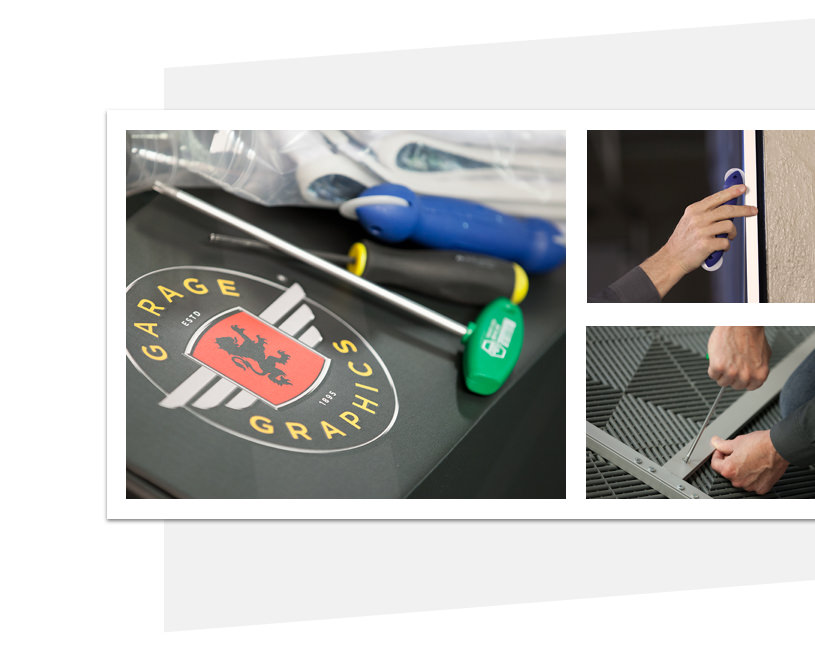 Your custom-made Garage Graphic display includes all the fasteners and hand tools you'll need for a perfect, trouble-free assembly and installation including: all wall fasteners and screws, mounting clips, corner connectors, trimmed and mitered frame sections, hex driver, and silicone edge roller. Back lit displays may include additional fasteners and tools as well as UL-approved, low-voltage lighting.
To make your assembly and installation go smoothly, we recommend you also have on hand a cordless drill with 1/4" and Phillips head bits, a Phillips head screwdriver, level, and tape measure.
And, if you need help, we're here to provide assembly and installation support. Call (833) 830-0971 for assistance.